re Once yo helped to A climallow bec…If you are looking for an exciting and thrill-seeking hobby which gets the blood pumping and your heart racing, climbing can be a fantastic alternative to a boring gym or yet another exercise class. While many  variations of the sport exist, there is one in particular which has shown an increase in popularity. This is a trend which shows no sign of slowing down: welcome to the world of bouldering for beginners.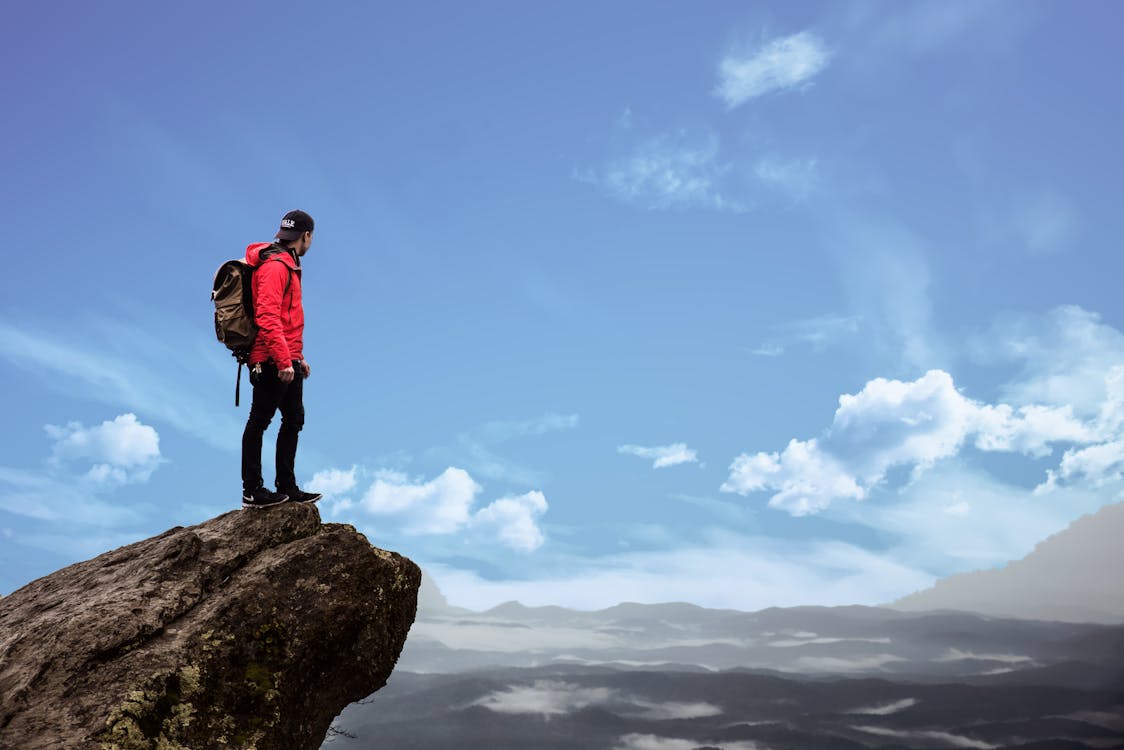 What Is Bouldering?
Bouldering is a fairly new version of climbing. It is also one which has risen to become one of the most popular indoor versions of the activity. This is especially true in cities and areas where mountains may in short supply.
In the simplest terms, the idea of bouldering focuses on climbs which are protected by pads. This is contrary to the ropes which we traditionally associate with climbing. As a general rule, this does mean that the climber is closer to the ground. Most boulders are around 12 to 15 feet tall, though some climbers include lower cliffs in the definition. The main distinction is the tools: if it uses pads instead of ropes, you are probably pretty safe to assume that it can fall under bouldering.
Boulder sequences tend to be shorter than other types of climb; the focus and challenge is on power and technique, rather than saving your strength for long term endurance. Contrary to the popular saying, this is a case of a sprint, and not a marathon. Despite their shorter length, bouldering routes can still prove a tough challenge even for experienced climbers. There are a wide variety of trails and adaptations you can make depending on your experience.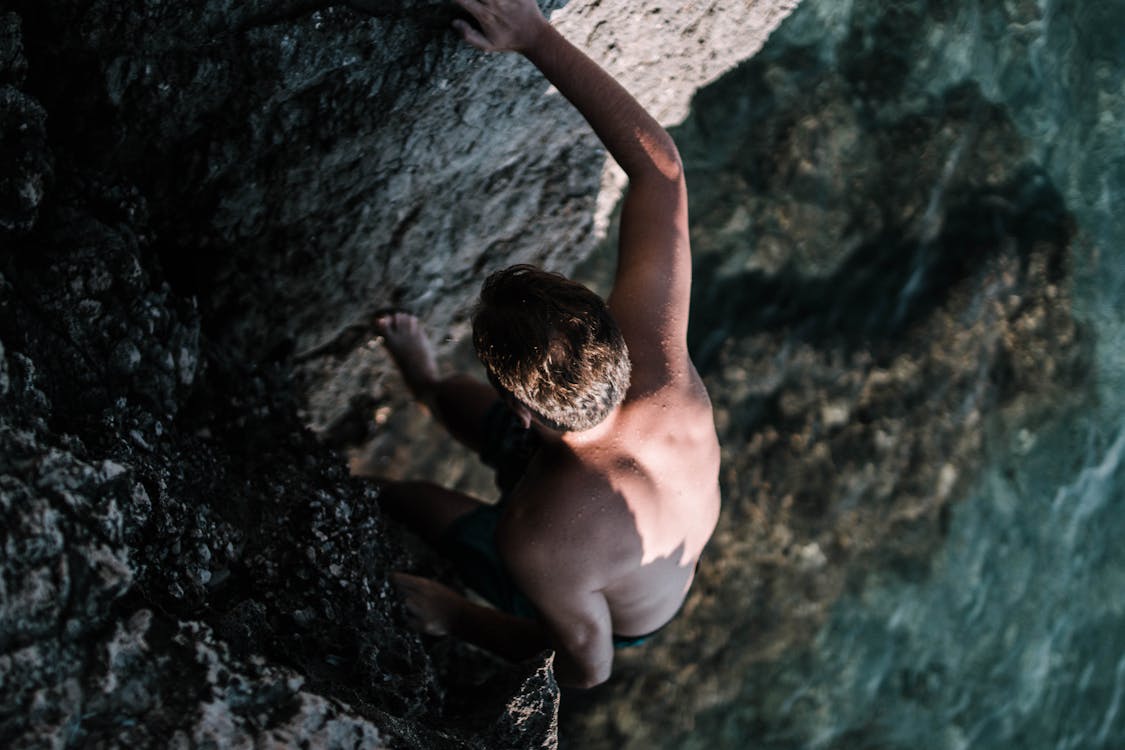 An Intense Experience
Longer, more complex routes make intense and focused concentration difficult – it is almost impossible to sustain such a high level for an extended period of time. Here, the focus is more on learning the individual moves, and putting these factors together in one successful sequence. Bouldering, on the other hand, requires a sudden burst of pure intensity, and it could take days or weeks for you to get to grips with a single move. This makes it perfect for climbers who really want to push their boundaries and test their limits – it is both a physical and mental endurance and helps to take us back to the primal instincts of our ancestors, and those values of strength, tenacity and sheer determination. These factors play a large part in the increased interest in bouldering for beginners.
Where Did It Come From?
Before we get into the nitty-gritty detail surrounding the sport and offer our best bouldering for beginners tips it can be useful to get to grips with its origins. Learning more about where it originated and the initial intentions add a new layer of understanding to the activity. This can help you to develop a more thorough appreciation and enjoyment.
The Origins
The 19th century saw the ideas and concepts of bouldering  and short problems first introduced.  Initially, routes served a primary function as training trails due to their decreased length. The sport was popular in the Lake District, and the French forest of Fontainebleau – we will see the significance of this later. The latter in particular became a real hotspot for bouldering in the early 20th century. They produced the earliest equipment such as bouldering shoes, rugs, and other safety essentials.
Introduction of the the earliest dynamic moves are often credited to Pierre Allain – he has a reputation as one of the 'Bleausards,' and was a driving force behind the development of Fontainebleau as a key area in the world of bouldering. Here, the activity was recognized as a sport in its own right – a strong departure from its origins as a training exercise.
Moving On
Bouldering as we now recognize it was first awakened in the 1950s by John Gill, an American mathematician. He helped to distinguish bouldering as its own discipline, and was responsible for transforming the activity into the format we enjoy today by introducing a number of key elements. This included the use of chalk to help absorb moisture from the clumber, and targeted strength training, designed to help assist climbers and enthusiasts. As an ex-gymnast, he also recognized the importance of some method to grade difficulty, and so introduced the earliest version of a grading system – this was a super simple system of B1, B2 or B3.
In the late 20th century, John 'Verm' Sherman took and advanced this system, and he was the brains behind the V Scale we now see throughout North America. This development coincided with a huge surge in the popularity of bouldering; Guidebooks, crash pads, and other tips and techniques became everyday equipment for fans of the sport. Bouldering also finally enjoyed status as an official recognized sport.
Into A New Age
In 2019, bouldering has changed, evolved and developed from the training exercises of its origins. At its heart, however, there are several core factors and values which are still essential – the routes are short, the sequences powerful and physically demanding, and the primary focus on strong, dynamic movement as opposed to endurance.
Defining Difficulty
In the world of climbing, giving a definition of how 'difficult' something is can be a complex undertaking. The most commonly used system involves grades. This is an easy way for climbers to describe how challenging a problem is. It also provides a simple way for participants to understand each other more clearly. It is important to remember, however, that vocabulary and perception of difficulty can be subjective. This system is by no means a definitive definition as to how hard a particular problem is.
Grading boulder problems involves using one of two key systems. The first is the Fontainebleau system – more commonly referred to as the 'Font Scale,' and the second is the Hueco system, or 'V Scale.'
Different countries will choose a different scale, with Oceania and North America commonly picking the V scale. This starts at V0 and moves up to V1, V2 and so on. The increasing numbers represent the increasing challenge, with double figures being reserved only for the very best climbers. At present, there is no limit to the scale. The highest position – V17 – is currently held by the Burden of Dreams, tackled by Nalle Hukkataival, and this remains the ultimate challenge…for now.
Europe and Asia, on the other hand, tend to favor the Font Scale. This is similar to the V scale in that it has no upper limit. It ascends in numerical order according to the difficulty of the challenge. Though there are problems which fall lower than 3, these are rare and most climbers automatically begin the scale at 3. The subdivisions which are included make the difference between systems. Each number  is given a letter – A to C – to determine their subtle differences. A plus can also be added, making, for example, a 6A+ harder than a 6A.
What Do I Need?
As you may expect, a sport like a bouldering does require a certain amount of specialist equipment to keep you safe and secure at all times. Though the heights tend to be lower than traditional climbs, any fall could potentially still cause great injury. It is crucial that climbers receive the training, supervision, and support they need to stay safe, especially in those early days. Even more experienced participants can benefit from an extra pair of eyes. This is especially important if you are planning to climb outdoors or in unfamiliar terrain.
All In The Shoes
Perhaps the most important piece of equipment you will need is a decent pair of shoes. Finding the best bouldering shoes for beginners is tricky, and finally locating the perfect pair can be something of an ordeal, but it is crucial to help ensure that you are safe and comfortable during your climb. Make sure you kiss as many frogs as you need before you find the perfect pair! Most centers will also give you the chance to rent or hire shoes until you find your own, and this can be perfect if you are just starting with the sport.
Other Equipment
Once you have your shoes sorted, the only other equipment you will need is a chalk bag or bucket, and climbing chalk. It may sound too good to be true, but bouldering is one of the cheapest, simplest forms of climbing available. It is accessible to all interested participants, no matter your budget. This also makes it perfect for beginners; there is no need to invest in expensive gear if you are unsure as to your commitment or enjoyment levels.
When you first start out, these are the essentials you need. There are also a few extras which can help to build up your kit as time goes on and you become more experienced. If you are planning to boulder outdoors, a crash pad should be part of your inventory; the joys of modern technology means that these are now portable and lightweight enough to move and transport without issue. Extras such as a hangboard, glasses, climbing brush and liquid chalk are also good investments, and it is important to protect yourself with climbing salve, a pumice stone, and climbing tape – there is no point in scratching up your hands and being unable to climb for weeks at a time! If you start to climb regularly, you may also benefit from investing in specific climbing clothing, which tends to be far less restrictive and gives more movement – this can add an extra layer of comfort to the whole bouldering experience.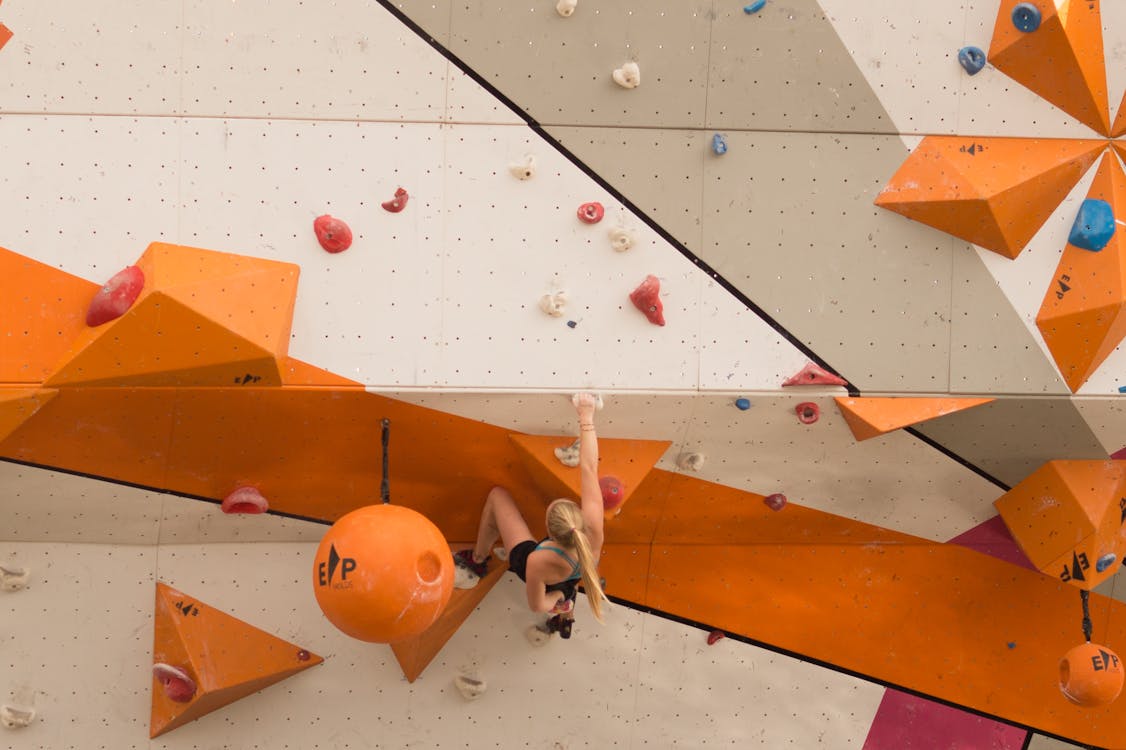 What Are The Types of Boulder?
As you develop and grow in confidence, you will likely find yourself attracted to certain types of boulders, and perhaps develop a natural affinity with particular features. There are a variety of boulder problems, and it is a great excuse to practice to find your favorite! Some of the top options include:
Aretes and Compression: This involves protruding blocks and fins, and climbers will find themselves 'hugging' or 'slapping' various holds. A real challenge, these types of boulder problem require you to think with both your hands and your feet.
Circus Tricks: As bouldering has increased in popularity, so has the chance for competitive climbing. These are becoming more common in most climbing gyms and can be a great way for more experienced climbers to broaden their horizons.
Cracks: Specific, targeted techniques can be useful to develop and hone skills for these most common obstacles for outdoors climbers.
Overhangs: These are a big strain on the arms, and include anything tipped past a 90-degree angle. Again, specific techniques can really help if you decide to specialize in this area.
Roofs: These are extreme overhangs which also require horizontal climbs. The moves here are almost more gymnastic in nature and require lots of physical strength. Toe and heel hooks are essential, so brush up on these skills before you tackle a roof!
Slabs: These are a subtle, delicate climb which requires more thought and care. You will become acutely aware of the nuances of your body, and the amazing things it can achieve.
Verticals: These sit between slabs and overhangs. A great way to build strength in fingers, and dexterity in footwork.
Traverses: As we have mentioned, endurance is not an enormous factor in bouldering, and a traverse is the closest you are likely to get.
So What Can I Expect?
So, you know the lingo, you have read up on the best gear, and you can answer any questions thrown at you about how bouldering came to be. The only thing left now is to bite the bullet, and get started! Beginners should start with a climbing gym. This can be a dangerous sport, and it is imperative that you are surrounded with calm, experienced climbers who can help you out if things go wrong.
On arriving at the gym, you will be greeted with a bouldering wall – this can seem a little overwhelming to the uninitiated. Each problem is marked out and coded with a specific color. This will be highlighted by the holds, or drawn out with specific colored tape; you must only use the holds belonging to the color of the problem you wish to climb. You will be directed to the start point and end points – these will be clearly marked out with a colored box or tape, or some other marker.
Starting Out
To start, simply place your hands on the starting holds, and carefully climb your way to the top. You may be visiting a gym with a 'top out' area – a place for participants to climb all the way to the top of the formation. Even better, these will come with an easy way to get back down, such as a ladder or stairs. There is no need to make it to the summit only to have to climb back down the hard way!
Until you are pretty confident, we would recommend that all bouldering for beginners involves sticking to climbing walls in gyms.  Once you have developed skills and confidence, you can consider taking your sport outdoors. This is where things get a little more complicated. Bouldering outside offers a huge range of benefits, such as more challenging problems and the chance to enjoy the great outdoors. There are, however also more risks and chances that things could go wrong..
Heading Outdoors
Unlike the handy guides at the gym, outdoor problems do not come with useful color codes. You will have to think carefully about where your hand and footholds need to be. Climbers will almost always be required to top out when bouldering outside, and this can be stressful if you are still fairly new. Again, we would recommend taking a more seasoned climber with you while you find your feet.
Spotting is an important element of any bouldering session, especially when we are talking about bouldering for beginners. An extra pair of eyes can help reduce the risk of you landing awkwardly on dangerous terrain, and is essential when you are outdoors; even the best crash pas will only take you so far.
But What If I Fall?
We hate to break it to you, but the chances of you falling and ending up with a bruised derriere are pretty high – especially in the early days. The lower heights may reduce the drama and help you to feel safer, but there is still a risk that you will land awkwardly and do yourself some real damage – ultimately, the goal is to stay firmly on the rock!
The first consideration is that prevention is always better than cure. With this is mind, it is important that you tread carefully and do regular safety checks on your environment. Scan the area and make sure you are fully aware of any potential pitfalls. Is that a knot that could turn your ankle over? What if that water bottle falls? Are there any other climbers around who may become an obstruction? Get into the habit of analyzing your environment before each climb, and you will find you become adept at spotting any hazards before they occur.
What Not To Do
Despite your best efforts, the chances are pretty high that you will suffer a fall at some point in your journey. Bouldering for beginners is exciting, but does come with risks! The key here is learning how to do it safely and without panic, to try and minimize the potential shock and damage to your body. Perhaps the hardest piece of advice to
follow is to let yourself fall. This seems counterintuitive, and your brain will be screaming at you to grab hold of anything which flies past you. While this may seem logical, it actually increases your risk of injury. You may suddenly jerk your neck with an abrupt stop, or injure yourself trying to get hold of something to slow you down.
What To Do
The only thing you can safely do when you realize you are falling is to accept it. Keep your muscles active and engaged throughout. Try not to go stiff or tense up – this increases the impact and can cause you serious injury. Land with your feet flat on the floor, and your knees bent slightly. This allows your knees to adsorb the majority of the shock – they are tougher than they look! – and helps protect your back and neck. Try and go with the flow, following the fall down through the knees and legs and onto your back or side. Staying as relaxed as possible means the impact will be less harsh, and this can be a less painful and safer way to fall.
Once again, your brain will try and trick you into believing that you need to put your arms and hands out to break your fall. This is an ancient instinctive reaction we have enjoyed since our days as cavemen. Hitting the ground at speed could mean that you break your wrists or arms if you try this, as they are some of the more fragile areas of the body. Instead,  bring them close to the body for protection, and aim to absorb all the shock with the lower body. You should also try and tuck your chin in gently – this can be very helpful in reducing the risk of whiplash and neck injuries.
As hard as it may be, the easiest way to deal with a fall is to accept that it may be a possibility. Try to preempt and plan for them as much as possible. This will help you to remain more relaxed if it does happen – this can be a crucial difference between serious injury and just a few scrapes and aches.
Conclusion
Whether you are a newcomer to the climbing world, or an experienced sportsman looking to tackle something totally different, bouldering is an intense, dynamic workout. Bouldering for beginners is an amazing way to try something new, and push yourself to the limits. Power, agility, and strength are the keywords. This is an amazing chance to try out climbing without heavy, expensive equipment or a complicated training program: it is time to dive right in.